Credit-card, auto-loan 'stress' rises as U.S. consumers fall behind on payments

Consumers are showing some signs of stress even as the unemployment rate — at least for now — remains historically low, according to Renaissance Macro Research.
"Credit quality is worsening," said Neil Dutta, head of economics at RenMac in a note Wednesday. He pointed to a modest deterioration in credit quality for credit cards and auto loans, citing the Federal Bank of New York's most recent household debt and credit report. 
The portion of auto-loan balances that are "seriously delinquent," meaning payments are late by at least 90 days, jumped to 2.53%, said Dutta. That's the highest since the third quarter of 2010, he said, while "seriously delinquent" credit-card balances increased to 5.78%. 
As more consumers struggle to keep up with payments on credit cards and auto loans, these two areas of consumer debt are seeing more "stress" than mortgages, the RenMac chart below shows. The yellow line tracks the jump in seriously delinquent credit-card balances, while the gray line represents the rising portion of such late auto-loan payments.
"As with unemployment, the risk with delinquencies are non-linear," said Dutta. "If unemployment jumps, credit will continue to deteriorate."
The U.S. unemployment rate rose to 3.9% in October, from 3.8% in September, according to a Department of Labor report earlier this month. Still, the unemployment rate remains relatively low, even as jobs growth in the labor market slowed last month and the Federal Reserve maintains interest rates at an elevated level that Fed Chair Jerome Powell views as restrictive.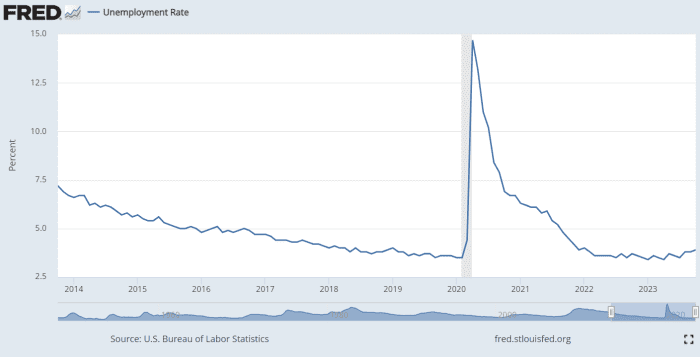 "Younger age cohorts are seeing the sharpest increase in delinquency rates," said Dutta.
But the percentage of "all debt balances that are seriously delinquent stood at just 1.28%, well below the pre-pandemic rate of 2.38%," he wrote. "Mortgage loan balances that are seriously delinquent remain pinned to the floor."
The stock market is watching consumers' financial health, as their spending has helped the U.S. economy chug along despite the Fed keeping its benchmark rate at the highest level in 22 years to fight inflation. 
U.S. stocks have been on a winning streak this month as yields in the Treasury market fell, although the S&P 500 index on Wednesday afternoon looked like it could snap its longest stretch of daily gains in two years. The Dow Jones Industrial Average
DJIA
was trading 0.2% lower on Wednesday afternoon, while the S&P 500
SPX
and Nasdaq Composite
COMP
each slipped less than 0.1%, FactSet data show, at last check.